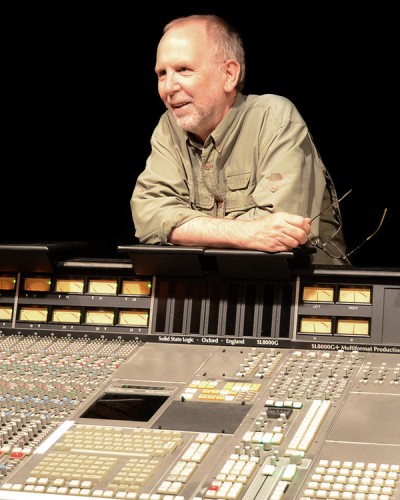 2016/17: Starting in February I began filming a series of analog studio recordings with a number of recording artists who are turning away from the digital recording process, at least temporarily. These recordings are 100% analog (old school) album projects. Each album is recorded and mixed in ten days using a classic 70's approach of capturing great performances and vibe not endless digital editing and repair work. I also started work on my OneMic – the minimalism recording series. (see News)
2015: I had the privilege of engineering / co-producing once again with my good friend Joe Satriani. We began at Skywalker Sound in January to record his 15th studio album, Shockwave Supernova.  In August the CD debuted on Billboard's Top 200  Albums Chart at No. 19, the highest debut of Joe's 30-year career. It was a very good year for mastering with over 40 completed projects.
2008-present: I built my own studio in my home in Oakland, CA. From here I have continued to mix and master albums. I also produced a few short music documentaries. Some of my clients have included: Chickenfoot, PJ Harvey, Joe Satriani, Kevin Gilbert, Sammy Hagar, The Rubinoos, George Cole and Tuva throat singers, Huun Huur Tu.
2000-2008: I joined the staff of the world famous Plant Recording Studios in Sausalito, CA as chief mastering engineer. For the next eight years I mastered albums and singles for artists including Tracy Chapman, Dave Matthews, Sound Tribe Sector 9, Jesse Colin Young, The Neville Brothers, Lyrics Born and Thomas Dolby.
1994-2000: I designed and built the first commercially available re-amping interface box which I named the REAMP. For the next 17 years over 3000 Reamps were sold in the United States and overseas. In 2011 I sold the company to Radial Engineering who now make a number of re-amping devices including my original design called the Reamp JCR.
1980-1994: It was during this period that I learned how to make records. I started recording demos on 4 track and within a few years I was engineering 24 track recordings for record labels. I spent every waking hour in the studio recording punk, metal, rock and even some jazz when they let me. I also learned how to fix recording equipment and manage a professional recording studio.
1973-1980: As with most engineers. I began as a musician. In my case, a drummer, but I came to the realization I wanted to be a recording engineer by the age of 20. There were no recording schools and only a few books on the subject. To pay my bills I mixed FOH for local bands and eventually worked my way up the food-chain to mixing Stevie Wonder's on-stage monitors.
Discography: (not complete)
Awards:
5 Gold album awards for Joe Satriani's, "Flying in a Blue Dream",  "Dreaming #11", "Time Machine" and "The Extremist" (Co-producer / engineer) Chickenfoot (co-engineer)
1 Platinum album award for Joe Satriani's "Surfing with the Alien" (Co-producer / engineer)
I have been very vocal about my dislike for The Grammy's and how they have turn art into a contest. So, the below listing should not taken too seriously.
11 Grammy nominations for various Joe Satriani recordings I made under the category of Best Rock Instrumental Performance (this category was eliminated in 2009)
1 Grammy award for Mickey Hart's  "Planet Drum" (Mastering)
"Don't think about making art, just get it done. Let everyone else decide if it's good or bad, whether they love it or hate it. While they are deciding, make even more art." Andy Warhol