The Last Creative Process in the Chain
I will oversee every aspect of your mastering project from beginning to end. I give each project the same care and attention and only use the finest equipment available. I'm available for consultation before submitting your mixes and after your project is completed. I'm also an MFiT Provider (Mastered for iTunes)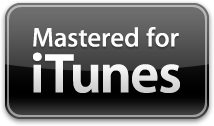 Mastering includes the following:
15-minute phone consultation
Assembly, organization, and backup of your stereo mixes
Equalization
Dynamics processing
L & R balance adjustments and phase correction
Fade-ins – fade-outs and crossfades
Sequencing and track spacing
ISRC code inputting
CD-Text
DDP Master for replication
The result is an equalized, leveled, and sequenced master for CD replication.
Other services available:
Editing
Noise and click removable
High-quality AAC or MP3 files
How I Work And My Guarantee
You can upload your mixes from my transfer page or send them to me on a flash drive.
When I receive your mixes, I will evaluate them and ensure they are ready for mastering. All mastering projects are scheduled on a first-come, first-served basis unless a RUSH arrangement has been made in advance. I ask for a 50% deposit on all mastering projects.
When the mastering is finished, I can make it available for download or mail you a reference CD that will be representative of the final master. If you like what you hear and wish to continue with the process, you then notify me. At that point, you will receive an invoice for the 50% balance due. Once I receive payment, I will produce a master DDP file set for replication that can be directly uploaded to the pressing plant.